Denitsa Dineva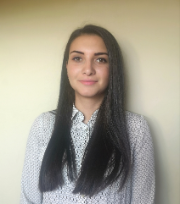 Denitsa studied BSc Business and Management (2013) and MSc Marketing (2015) at the Business School of Aberystwyth University. Following the completion of her master's degree, Denitsa worked in Consumer Finance at Lloyds Banking Group before deciding to return to Aberystwyth University to do an internally funded Ph.D. degree on the topic "Conflict management in online communities". Subsequently, Denitsa graduated from Aberystwyth University in 2019 with a Ph.D. in Business and Management.
What do you remember most about your time at Aber?
I moved to Aberystwyth to study a BSc degree from my home country, Bulgaria, and I felt at home the minute I arrived. The community was warm and welcoming, and the diverse student population allowed me to befriend many students from all over the world. Having spent a total of seven years in the Business School, I have many fond memories of my time at Aberystwyth University and I am grateful to have met everyone who became part of this journey, all of whom have undoubtedly helped me develop personally and professionally. I made lifelong friends, met my partner and established strong professional relationships with some of the academic staff at the Business School and I will always consider the West Coast of Wales to be a very special place.
What are you doing now career-wise and how has your Aberystwyth Degree helped?
At present, I work as a Lecturer in Marketing and Strategy at the Business School of Cardiff University where I teach at both undergraduate and postgraduate levels, on the subject of Digital Marketing. My time spent at Aberystwyth University has certainly taught me very valuable personal and academic skills, all of which have helped me excel into a professional lecturing role. Aberystwyth University provides a very friendly, but also an academically rigorous environment, which has encouraged me to constantly seek opportunities for development and progression within my career.
What advice would you have for a student doing your course now?
I would advise students to enjoy their time at the university and make the most of work and studies related opportunities. The learning environment at Aberystwyth University is fantastic - academic as well as support staff are welcoming and accommodating, and current students should utilise these in order to learn and improve. The journey of completing a degree will not and should not be an easy one, but it is most definitely a very rewarding one.