Andrew Guy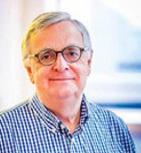 Shortly after leaving Aber I became a Graduate Management Trainee at the Berni Inns Group, at that time the UK's leading restaurant company. That led to over forty years executive experience in the casual dining sector of the hospitality industry, working for different companies in the UK, Europe and San Antonio, Texas, USA.
It included ten years at City Centre Restaurants plc, now The Restaurant Group, the UK's largest publically-quoted restaurant company, three of those years as CEO.
I have been Chairman of The Coaching Inn Group, of Crepeaffaire International and am still Chairman of Reco-Air Ltd which manufactures and sells specialist kitchen ventilation equipment worldwide.
I have been on the Board of Trustees of the industry's leading charity Hospitality Action for over 25 years and I was awarded the MBE in the 2015 New Year's Honours for leadership in the industry and for charity work. I am a Fellow of the Institute of Hospitality, and became a Fellow of Aberystwyth University in 2016, where I continue to be involved in advising on the hotel and hospitality aspect of the university's Old College development.
Looking back at all of this there has been a lot of hard work, but also a lot of good times, and I've been fortunate enough to meet some remarkable people.
What do you remember most about your time at Aber?
Growing in confidence and self-reliance, having left home for the first time, and to plan my studies in a way completely unlike school.
Discovering it more by chance than for any other reason, I studied a subject that I appreciated and enjoyed. It introduced me to US politics and history, which I have continued to read and follow with interest throughout my life, especially with regard to the Civil War period.
Playing hockey for the University and learning to cook in a flat shared with nine other lads. Some great nights out in the town, with favourite venues being the Angel and the student union bar, and some great bands that came to the Kings Hall on the promenade, sadly demolished in 1989.
What are you doing now career-wise and how has your Aberystwyth Degree helped?
In studying for my degree I learned how to learn, to absorb information and structure it for effective use.
Although the actual subject that I studied has remained a personal interest through my life, it has had no bearing on my professional career. I am now semi-retired, but still chair those companies I listed above.
What advice would you have for a student doing your course now?
"Don't worry about what it may lead to post-university. Work hard at it, challenge yourself, enjoy it and the future will, surprisingly, take care of itself".
: advice in my first year from my personal tutor John Garnett, which turned out to be completely true!