Best Student Studying in Welsh-Medium Modules Award
2019/2020 winner - Lili Price-Jones
Lili was joint winner of the 'Best Student Studying Welsh Medium Modules' award and is the first student to complete the Employability module (CB38020) as a 100% Welsh medium module.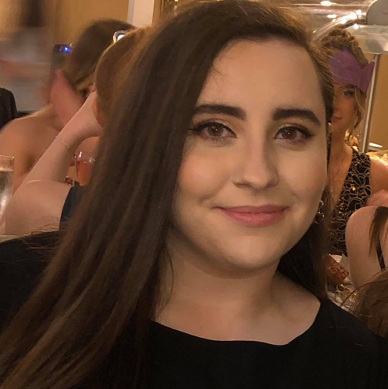 At which organisation was your work experience placement and what was your role?
I undertook a placement at the head office of Menter a Busnes in Aberystwyth which is an independent company that provides support to businesses and organisations across Wales. As MaB was celebrating 30 years in business at the time, my role as the Marketing and Communications Assistant enabled me to have substantial amount of contact with several other associates across Wales. Therefore, it was very important for me to provide proactive, reliable and efficient support for Menter a Busnes and external contractors involved.
What skills did you develop during the placement?
I developed many skills during my placement that enabled me to grow professionally and intellectually. Communicating regularly with peers and external contractors allowed me to gain confidence in my decision-making and self-confidence that eventually lead to be the motivation I needed in completing tasks on time under pressure. In addition to this, my team-working skills were also developed when communicating freely to members of staff and throughout the placement, this was vital in trying to work as efficient as possible whilst contributing to my development in my time-management skills. Developing these skills has enabled me to grow into a more mature version of myself.
How did the organisation correspond to your academic interests?
My knowledge of marketing had been vital to my understanding of the different elements that I encountered during the process of completing the '30 years in business MaB celebration' project. The promotional strategies MaB used strongly reflected the work I learned in lectures and being familiar to the theory was a great advantage. As the organisation is Welsh, communication was through the medium of Welsh. Regardless of myself being fluent in the Welsh language, having Welsh seminars as a part of my degree gave me a deeper understanding of how to communicate using Welsh business terms on my placement.
What was your favourite seminar session on the module and why?
My favourite seminar session consisted of analysing the Belbin Team Roles. My report explained how I would react to various situations based on my self-perception only. Reflecting on learning this was interesting as it was made clear why I reacted to certain situations whilst on the placement.
What are your plans for the future?
For the future, I plan on integrating learning with traveling. Studying marketing with dedicated lecturers and developing invaluable skills, has made me excited for the future with a new boost in confidence. It has opened up possibilities for a career in marketing; and has given me a new drive.